Listed on the drop-down menu above are just a few of our horses.  A complete list is below.
Since its beginning in 1999, Horses' Honor has rescued over 500 horses. Our current capacity is up to 25 horses at one time. The stories of just a few of them are linked above.
Almost all of our rescue horses are senior citizens–horses that have been abused, abandoned, or neglected and are finishing their golden years in beautiful pastures with buddies instead of in a slaughterhouse.  Some horses still remain in the private pastures that have been generously donated by caring residents of Auburn, but most of the herd now resides in the beautiful rolling hills of the new property in nearby Lincoln.  Niña and Eric live on the property, which makes it easy for them to grab a cup of coffee and check on the horses early in the morning and throughout the day.
The horses are divided according to feeding needs. Some are entirely on hay; some are entirely on senior pelleted feed, and some are on a combination of hay and senior feed. Niña and Eric check on the horses every day, remove fly masks, check eyes, worm, and look for any injuries. All horses receive copious amounts of love and lots of attention. Niña and Eric give scratches, rub their necks, caress them and talk lovingly to them.  All of our horses – many of whom had been malnourished – are now plump and shiny.  Local farrier and vet care are discounted and paid for by donations. The horses are all friendly and personable. Although their pasts are often disturbing stories of neglect and abuse, they have known nothing but love and kind attention from Niña and Eric — true horse whisperers–and they trot to the fence line to greet their caregivers for hands-on affection and a treat or two.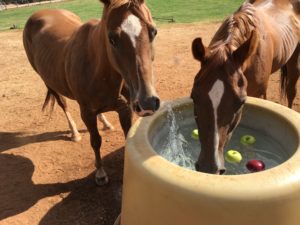 | Our current horses (updated August 2017) | |
| --- | --- |
| | Vena, 21 year old Fjord mare. |
| | Star, 16 year old Fjord gelding. |
| | Brushwood, 30 year old Arabian gelding. Completed the Tevis Cup 3 times. |
| | Twiggy, 29 year old Arabian mare. Completed the Tevis 3 times. |
| | Angel, age 20. Grade Quarter Horse. |
| | Tohono, 1/2 Andalusian, age 22. |
| | Ruby, 37 year-old Mustang mare |
| | Beauty, age 33 |
| | Venus, Arabian mare, age 27 |
| | Sabrina, mustang mare, age 32 |
| | Three donkeys: Cassie, age 34 and her babies: Candy, age 28, and Petey, age 26 |
| | Tycho - 23 year-old Arabian. |
| | Cookie, 25 year old Quarter Horse. |
| | Cassandra – 24, Thoroughbred |
| | Rickie – 15, Quarter horse |
| | Dolly – 26, Quarter Horse |
| | Sam – 26, Thoroughbred, former dressage horse with almost severed tongue. |
| | Yazzi – 10, Mustang |
| | Cheryl – 30, Arab bought for $55 at an auction–emaciated. |
| | Cherokee – 18, Mustang |
| | One-Eyed Buddy, 16 years old. TB off the track, rescued from slaughter at three years old, skin and bones. Lost eye in accident. Nice guy. |
| | Katy - 26, an Arabian |
| | Perry - 26, an Arabian |