OCTOBER 30, 2016
Golden Gate Fields Dollar Days!
Horses' Honor volunteers hand out drinks & food, and we get $1000 plus tips.  If you can help, please contact Sidney Simpson.
ANNUAL TACK SALE COMING UP!
Click on the image for details.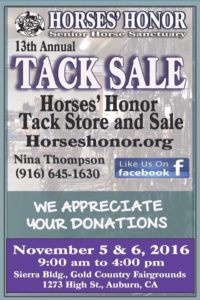 Horses' Honor has been invited to participate in Elk Grove Milling's 2017 calendar, which will feature horses from rescue organizations! We'll post where you can get a calendar as those details become available.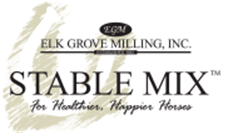 Horses' Honor is a non-profit organization dedicated to assisting horses in need.
Horses' Honor provides sanctuary in a safe, natural environment to horses that would otherwise face likely slaughter or unnecessary euthanasia. Since 1999, Horses' Honor has been a sanctuary for horses rescued from neglect, abuse, or shipment to slaughter. Please explore the work we do by clicking on the links above. All proceeds go to the feeding and care of the rescued horses.