April 6, 2013 – Suffering from sever colic, Roxy was humanely euthanized. She loved her life at Horses' Honor, and it was a priviledge to know her. She came to HH in November of 2011 in deplorable shape. She lived out the remainder of her life with love and care.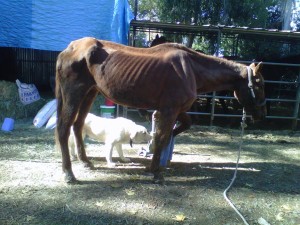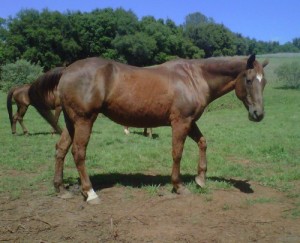 Roxy is what Horses' Honor Rescue and Sanctuary is all about.  From the bottom of our hearts we thank you for being a part of our family and for helping to make a new life possible for Roxy and others like her. Your support is integral to making it all work.
Already you can see the gratitude in her eyes.  She follows Nina, our founder and director,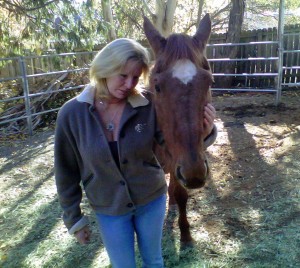 around like a puppy and wolfs down her supplement.  She is bedded down on soft shavings whereas before she was mired in a mixture of mud, urine, and manure in a lean-to under a house. She will never again change hands or be mistreated. She is in her "forever home"  in every sense of the word.
Roxy, a 25 year old mare, was rescued by Horses' Honor in November, 2012.  The vet, Sami Macon, and the Humane Society scored her overall condition at a 1.5. They said they had never seen a horse so thin that was still standing.  Other than her severe malnutrition, Roxy was in incredibly good condition.  She had been kept in an 8 x 11 area under a house. In this picture, she is being checked by a farrier. Her feet were also in good condition, although she had been mired in mud, urine, and feces. Her attitude was one of dejection and depression.
After only a short time at HH, Roxy has a sweet disposition and is perky and grateful.  She has a clean place to sleep and lots to eat–both hay and senior supplement. She chows down on the supplement.