Grand Dame was humanely euthanized after a serious pasture accident on January 7, 2014. She was 39 years old. We are glad that she was able to spend her final years with good care, good food, and in the company of other horses.
Eric has driven past this mare for about 18 years. He always felt badly that she lived alone.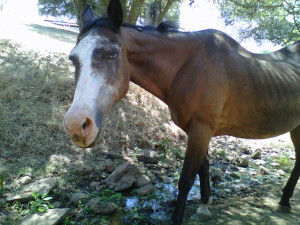 As a man who knows horses, he understood how she was suffering. The years went by; there were times she was thin but this winter she looked pretty awful. We began having her on our minds as we passed her pasture but only seldom caught glimpses of her. Driving by the other day she happened to be standing near the fence and was so thin and sorry-looking that Eric requested we take her in.
Years of handling these situations has gifted me with a good sense of how to proceed. The next morning after finishing my work as a night janitor, I drove into the property. It was a sizable acreage with many fruit trees. It was regrettably early but I called out my presence and knocked on the door. Several cats and a dog made a proper greeting. I identified myself to the man at the door, apologizing for the early hour. I expressed our desire to help and within a moment the mare was ours. I made arrangements to pick her up that afternoon as we made our way out to the field to see the girl.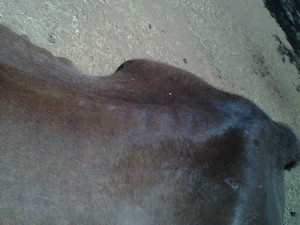 She stood head down in dry weeds, bone thin. A bay mare with two blue eyes. Damian he called her, 38 years old. He had bred her dam and she had lived on the property her entire life. For about the last 25 years she has been alone.  Now, near the end of her life, she stood starving in a field without the teeth needed to eat the grasses in front of her.
I cannot tell you how gratifying it is to help her. I am thankful that even knowing the extra work and expense involved, Eric so readily opened his heart to her plight. This sweet old horse, who we have renamed Grand Dame, went willingly into the trailer following a bucket of senior feed. She LIKES senior feed.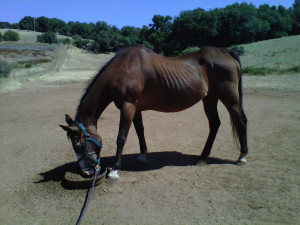 She now lives in a 15 acre pasture with four other horses who can eat only senior feed. She has been befriended by Roxy, who at one time was in similar circumstances. She has a great appetite and we look forward to watching her gain weight! The rest of her life will be spent in good company and comfort. She will never miss another meal. We are thankful to be able to care for her.