Cutter passed in 2013.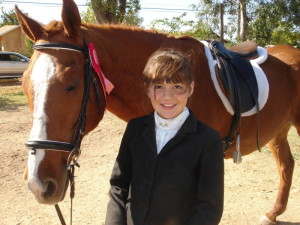 This is the story of Cutter–a rescue from a rescue. He was featured on the Horses' Honor 2011 Thanksgiving card.  As you can clearly see in the first pictures, he was a much loved family horse who was ridden and shown by two little girls.
Almost a year ago his family found a loving home for Cutter, who was then 25, to "semi retire".  It was a nice family and he seemed happy when they would visit.  Unfortunately, the new owner had surgery and was no longer able to care for Cutter. As a result, he was relocated to a rescue facility.
When the family went to visit Cutter at the facility, they were told that their horse was in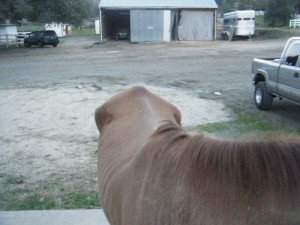 hiding and that they could not see him because animal control had taken 15 of the horses 2 days prior.  With many tears and begging, finally the family was allowed to see their horse. When they saw Cutter, they were moved to even more tears because of his condition.
He was now emaciated, had an injury to his hind leg, and was dehydrated.  The rescue agreed to let the family adopt him back without a fee, and Cutter came home with his old family that night.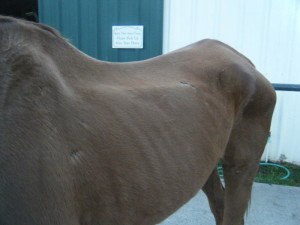 He was subsequently placed at Horses' Honor Rescue, where he now lives and thrives. Horses' Honor Rescue is a permanent sanctuary that provides a happy ending for horses in need so that they are well cared for and die with dignity.  This gelding will live his life out there with a round belly and plenty of attention.
As you can clearly see in the first pictures, Cutter was a much loved family horse. This was potentially a heartbreaking story, but it had a happy ending. The very last photo is a recent one that was taken of Cutter in the pasture, and was the star of our Fall 2011 card. It is indeed hard to believe when you look at the photos that they are all of the same horse and taken within a relatively short time frame. (Photos posted with permission.)