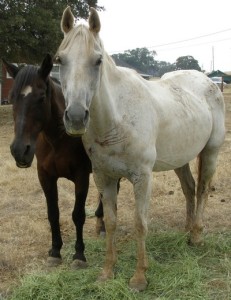 Update March, 2014: Sir Galahad was gently laid to rest after a severe case of laminitis.  
Cocoa and Galahad were temporarily rescued by a man who put them in pasture with his stallion and a mare and they were getting beat up. The gray, Galahad, protected Cocoa and thus got the worst of things.  Another Donna took them in and with help from the community, has had their teeth and hooves done and they have been wormed. She had them restored to good flesh, but she could not keep these boys permanently so is very thankful we were able to take them in.
They are very bonded and frightened of other horses. In addition to attacking them, the stallion kept them away from feed and water so they've only had the last 3 weeks of peace and free access to feed in about a year.  At Horses' Honor, they think they're in heaven!