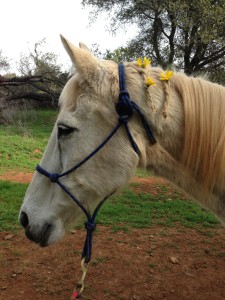 March 15, 2013
Today we will be putting Addy down. She will be brushed, her hair braided with flowers… She will get a warm sweet mash and be euthanized with the taste of grain on her lips. She is my friend and I love her. She is gentle and regal and full of class, beautiful. She has cancer that has spread throughout her body and over the last six weeks has visibly declined, despite ample access to senior feed. We think she is in her late thirties.  Addy has been with Horses' Honor from the beginning, gracing us each day with her presence. She was once a racehorse, then pleasure horse, then broodmare, then discarded, twice rescued from the slaughter pens. She is noble and kind and we will miss her. We are thankful to have provided her safety and care for thirteen years. My heart is not broken. It is full. I have done my job well, and Addy and I are better for having known each other.

Introducing Addy, a grey mare who was discarded & rescued twice. In this photo she enjoys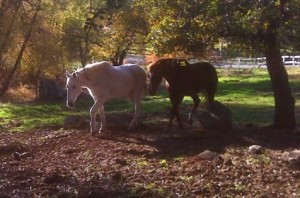 a late afternoon stroll with her long-time companion, Fulton, in one of our Auburn pastures.
A sweet, loving older thoroughbred mare, Addy began her career as a racehorse. She raced, and when she was no longer considered fast enough, she was used as a broodmare. When she could no longer produce babies, she was sold for slaughter.
Enter Joe Shelton of TB Friends Horse Rescue. (The "TB" stands for thoroughbred.) Joe has saved hundreds of horses from slaughter by outbidding "kill buyers" at auction. Addy was indeed lucky to be found by Joe, who then placed her in a home where she would be used and loved as a riding horse.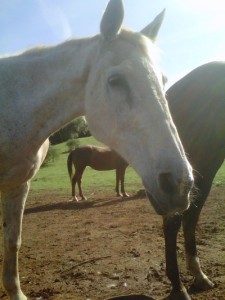 But there is more to Addy's story. Some time later, Joe was again at the auction, searching the slaughter pens. He saw a grey mare and recognized her as the horse he had previously rescued and placed. He purchased Addy again and this time placed her in the permanent sanctuary at Horses' Honor Rescue.
Addy had been discarded by every industry—racing, breeding, riding & showing. Addy, the miracle horse, rescued from slaughter twice—she will live out her life, spending her days with her best buddy, Fulton, in a tree studded pasture— at her "forever home"—Horses' Honor Rescue and Sanctuary.