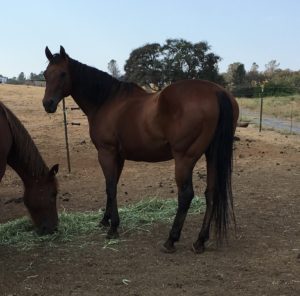 Angel was born in 1997, and is a grade Quarter Horse.   He was surrendered to Horses' Honor by his owner.
His owner had him for 15 years.  When she bought him, he had been starved and was on his way to recovery with the person who had rescued him.  Angel was – and is – much loved over those 15 years, teaching his owner how to ride and having fun on trail rides and participating in cattle sorting.  But both the financial and a medical situation (with the owner, not Angel) meant that she could not keep him any longer.  A 20 year old horse, slowing down with arthritis and beginning to get a swayed back, she wasn't about to sell him down the road to heaven-knows-what-fate.  Faced with the very real possibility of having him euthanized, she asked Nina if HH could take him, and that happened in August, 2017, when space became available at the facility.
Angel is "healthy as a horse," friendly, and has bonded with a couple of the mares in pasture.  He is living out his life in happy companionship, and doesn't have to work ever again.